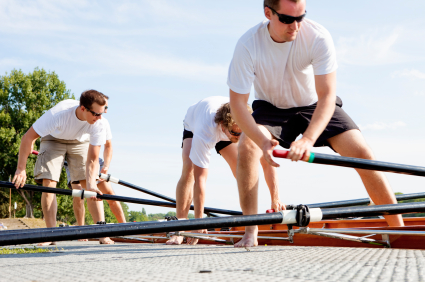 With such a vast array of things to do in Jacksonville and Northeast Florida, we can assist in offering the most appropriate team building activity for you and your guests based on timeline, budget and guest requests. From private golf outings to deep-sea fishing to exploring the backwaters of the River, we can tailor the day's team building activities to meet your needs. Whether it's culture, history, or adventure that your guests are looking for, East Coast Destination Services will exceed your expectations and provide extraordinary service.
Many businesses are amazed at what a few hours of interesting and fun team-building activities can do for company morale and production. Helping you plan unique and interesting team-building events is a special interest of East Coast Destination Services.
Team-building events can take a divisive, highly individualized group of colleagues and mold them into an understanding, compassionate, cohesive whole – a true team! And when team members learn to work together, trouble-shoot together and help each other, their productivity and hence profitability soars.
There are many forms that team-building activities can take. Team-building events can be run as seminars and workshops with something as simple as an inspirational keynote speaker or they can be planned as an interactive daytime activity such as a scavenger hunt, sand sculpting on the beach or community involvement. The location of your event will never hinder the possibility of holding team-building activities. They can be incorporated just as easily on-property as they can off-property.
During our years in the hospitality industry, East Coast Destination Services has seen a very diverse selection of successful team-building events. Some examples of advantageous team-building activities are:
Team experiences, such as sports, games and scavenger hunts
Environmentally or community friendly activities such as local gardening
Role-playing exercises, helping participants learn the hurdles faced by their counterparts, in order to gain a better perspective on their work life
Cooperative efforts, like sailing, mural projects, planning teams, and competitions
Child's play events, taking participants back to the simpler roots to play the games we grew up on which laid the grounds for future teamwork
Activities incorporating company trivia, helping members learn more about the entity they work for, or the entity sponsoring the event
The list of new and exciting team building events grows longer every day, and we continually work to research and bring unique team building events to you.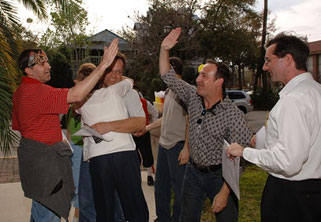 The following are just a few examples of the many benefits from team building:

Learning to work together
Building trust amongst team members
Learning to effectively divide and delegate the workload
Understanding each member and their company role more completely
Enjoying and appreciating colleagues
Learning something about a peer, beyond the "work" personality
Learning to work together


Oldest amazing race
River City scramble beach olympics
Sports challenges
Experiential learning eco-adventure programs
Custom road rallies
The result of team building events is that colleagues and peers return to work energized and with a renewed team spirit that allows them to work together more efficiently, understanding various personalities and the willingness to tackle any problem as a